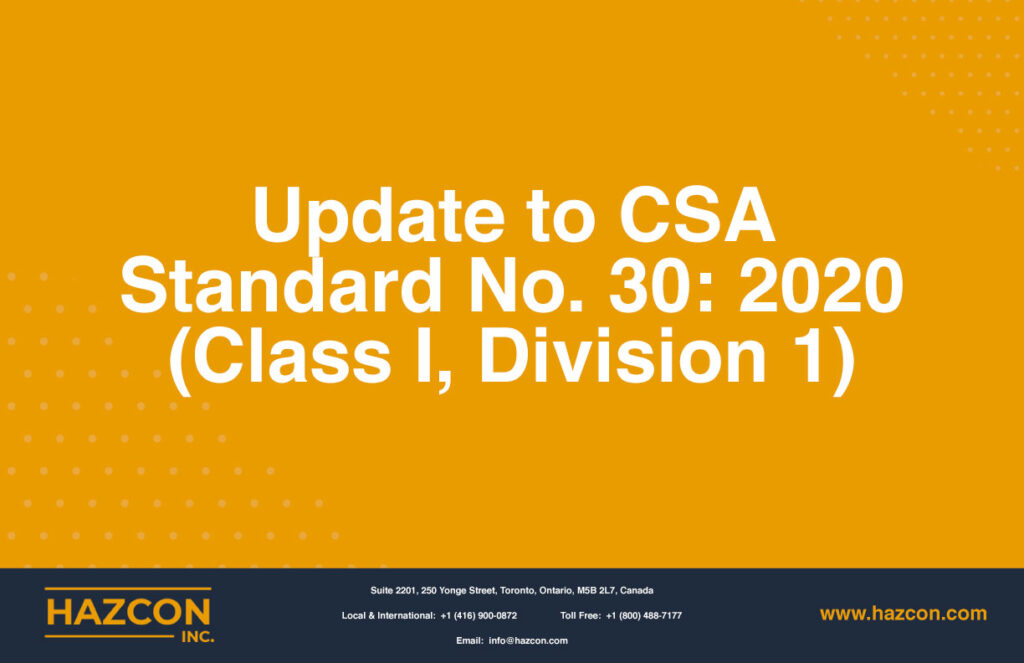 Update to CSA Standard No. 30: 2020 (Class I, Division 1)
CSA Standard C22.2 No. 30, which relates to explosion-proof electrical equipment, was recently updated. The newest edition, CSA Standard CSA C22.2 No. 30 Edition 2020 is now available. Compliance with Standards is a requirement. Ignorance of changes to Standards is an unacceptable defense against failure to comply.
In this article, our goal is to provide you a brief summary of the main differences between this fourth edition and previous ones so that you are better positioned to bring your products into compliance with the new edition.
In the Class/division system in North America, explosion-proof is a protection technique designed to keep electrical devices safe that are installed in a Class I location, where hazardous substances are (or may be) present which are flammable and/or combustible liquids, gases, or vapours. In Division 1 locations, such an explosive atmosphere exists continuously, for long periods or of time, or frequently. This protection technique uses the containment approach. It involves using an explosion-proof enclosure as well as proper seals for cable and conduit to enclose any parts of the electrical device that are capable of igniting an explosive gas.
For all manufacturers of new electrical equipment intended for use in Class I, Division 1 and using the explosion proof technique, compliance with this updated Standard is required in order to obtain Canadian certification. Already certified products that are still complaint with the previous edition of CSA C22.2 No. 30 will, at some point, need to comply with this latest edition.
This fourth edition has better defined and clarified terms and conditions within the defined Scope and specifically in Sections 4 (General Requirements), 5 (Construction), 6 (Marking), 7 (Introduction Provided with the Equipment) and 8 (Testing)of the Standards.
Scope
The atmosphere conditions (temperature and pressure ranges, as well as the oxygen content of the atmosphere in which this equipment may be operated) are specified. As per the new Scope of this Standard, the upper ambient temperature has been increased from +40 to +60 °C. However, use of a higher ambient temperature is possible, given more consideration or investigation.
General Requirements (Section 4)
General requirements (electrical safety requirements for general use equipment) have always existed. Standard CSA C22.2 No. 30:2020 clarifies that compliance with them is required. Readers of the Standards are directed specifically to Standard CAN/CSA-C22.2 No. 0.
Construction (Section 5)
This Section of the Standard defines the construction requirements of the enclosure and parts of the enclosure on which the protection technique relies. The construction requirements for both metallic and non-metallic enclosures as well as the specific materials used have been clarified and specified in this edition. The use of some metallic materials is either restricted with some gas groups or there are limitations in the allowable percentage of alloys.
Specific requirements for each type of flamepath for Class I, Division 1 explosionproof enclosures have been added. For example, all of the various types of acceptable joints are identified and details about them provided. Requirements related to sealed joints (such as cemented and fused glass joints and gas-tight joints) have been introduced in this edition and their requirements clearly explained. Details have been added concerning the requirements related to fasteners.
The requirements related to flame-arrestors were there in previous editions, but more details and technical requirements were added for flame-arrestors and drain-breathers for use in explosion proof enclosures.
Requirements related to cable entries for explosion proof enclosures are now clearly identified. They must now comply with Standard CSA C22.2 No. 0.5. Both NPT and metric threads are now acceptable.
Clarity and more detailed explanations are provided for explosion seal requirements. Process seals are introduced in this new edition. All seals play an important role in retaining the integrity of the enclosure used in the explosion-proof protection technique. Process seals ensure that the flammable fluids associated with a process system are not allowed to enter the enclosed electrical device.
Marking (Section 6)
There have been no significant changes to the marking for Class I, Division 1 products. Changes were made to the T-codes, but they do not affect the marking.
Introduction Provided with the Equipment (Section 7)
This Section of the Standards addresses the documentation that must be provided by the Manufacturer to identify installation, safety warnings, and maintenance requirements, for example. The need for an Operation Manual is now clearly a requirement. Details have been added to some of the documentation requirements. An example is that instructions for drilling and tapping field wiring entries (if applicable) must be included.
Testing (Section 8)
Compliance with the requirements related to testing is critical to achieving certification. Failure to comply with the Standards at the testing stage results in unnecessary added time and costs during the certification process.
The three main tests that are referenced for explosion-proof devices ( pressure test, over-pressure test and flame propagation test) remain unchanged but additional testing ("pre-testing")may first be required of non-metallic parts to prove that they are as strong as metallic parts. The need for pre-testing is based on the materials used in the construction of the enclosure. Pre-testing tests the material against such things as chemical agents, flammability, electrostatic discharge, and thermal stability. These pretests are conducted on non-metallic parts prior to the explosion-related tests.
One important new feature of this Standard is that it allows a flamepath with a larger gap than is indicated in the existing table, provided that the enclosure passes the flame propagation test. A safety factor will need to be applied to the test conditions. This represents an opportunity for electrical equipment to be designed with a gap larger than the minimum requirements.
Changes are indicated for testing conducted on enclosures that already contain one or more arc-rupturing device(s). Such devices are rated at greater than 20 A or greater than 745 W or equipment containing circuit breakers rated and marked for connection to a supply circuit with an available short-circuit current exceeding 10 000 rms symmetrical amperes. Testing is adjusted for such already high arc-rupturing conditions.
Summary
Compliance with the latest edition of Standards indicates to consumers that the product complies with the latest technical requirements. Compliance can be simple or, in some cases, can be quite challenging, depending on the construction of the product. Manufacturers of already certified products would be wise to conduct a gap analysis assessment to determine any gaps in the compliance of your product with the latest edition of the Standards. At Hazcon, we can help by, not just providing the gap analysis, but also supporting you throughout the process. We can help you remain compliant and be prepared for the date when CSA indicates that compliance with the latest version is required, even of products that were previously certified.
Complete the form below to get started.