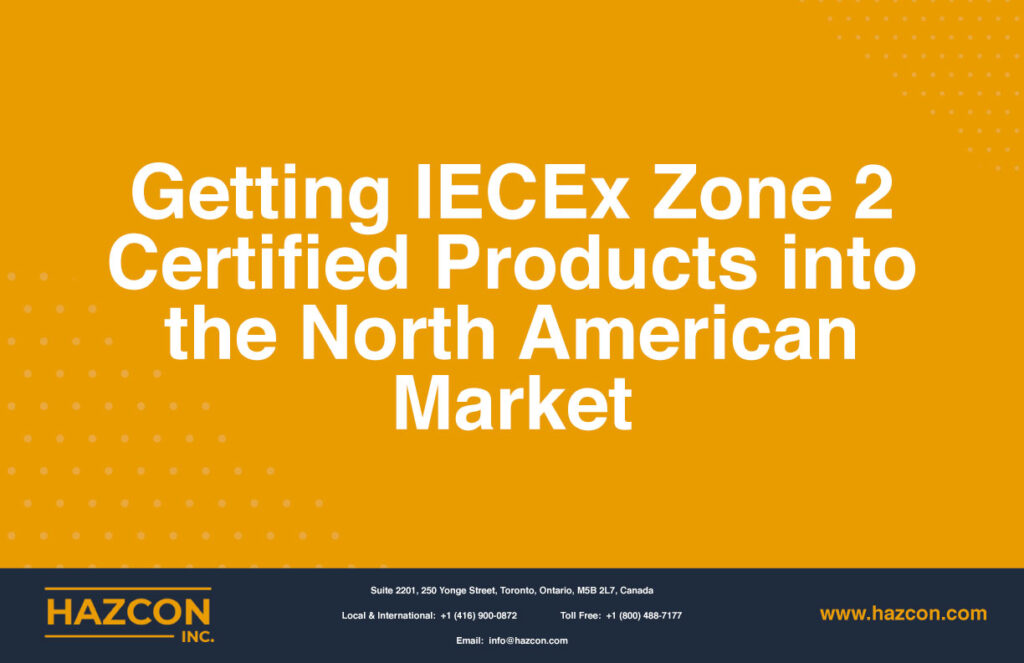 Getting IECEx Zone 2 Certified Products into the North American Market
Electrical equipment to be used in a hazardous location ("Ex") must be designed so that there are no hot surfaces inside or outside each component and so that no arcing/sparking can occur. In other words, there can be no mechanical connectors or other potential sources of arcing or sparking. The surface temperature of all components must remain well below the auto-ignition temperature of any explosive gas present. These protective measures must be built into the design of the equipment.
Products bearing the IECEx Zone 2 markings have been certified for use in hazardous locations by the IEC system of certification for international markets. Electrical products with Zone 2 Ex marking and EPL Gc (Equipment Protection Level) have been certified as safe for installation and use in explosive and combustible environments, based on IEC 60079 series Standards.
Protection techniques for Zone 2 applications are typically provided through methods described as: energy limitation, isolation of the ignition source from the explosive atmosphere and avoidance of the ignition source. Depending to the type of electrical products, one or more of the following specific protection techniques may be used:
Ex ic (Intrinsic safety)
Ex ec (Increased safety)
Ex nA (Non-arcing)
Ex nC (Sealed device)
Ex nR (Restricted breathing)
Ex mc (Encapsulation)
Ex pzc (Pressurized)
Ex dc (Flameproof)
Ex oc (Oil immersion)
Ex qc (Sand filled)
In order to be approved for use in North America, electrical products manufactured anywhere in the world must also be approved for use by a certifying body accredited by the SCC in Canada and the OSHA in the U.S.
IECEx Zone 2 certified products cannot be installed in North America (except for The US Coast Guard) unless they meet additional North American certification requirements.
Products that are already compliant with the IECEx certification requirements and have been certified internationally as safe to use in hazardous environments must meet the following additional conditions if they are to be used in the North American marketplace:
Equipment must first comply with the general safety, also known as ordinary location Standards. Different types of electrical equipment have their own ordinary location Standards
Equipment must comply with the North American national deviations CSA/UL 60079 series – additional requirements that might involve additional testing (depending the type of products and protection techniques)
Equipment must also comply with installation restrictions in accordance with the Canadian Electrical Code (CEC) and the National Electrical Code (NEC) in the US
Furthermore, the Canadian Electrical Code/National Electrical Code require that wiring in Zone 2 and Division 2 that enters or leaves such equipment needs be protected by a conduit installation or special cables to protect the wiring system against mechanical damage (other than Non-incendive equipment).
Certified products for use in the North American market must bear the label of the certifying body (e.g., CSA, QPS, UL, FM) and markings that illustrate the characteristics of the product: division marking and/or zone marking.
Complete the form below to get started.