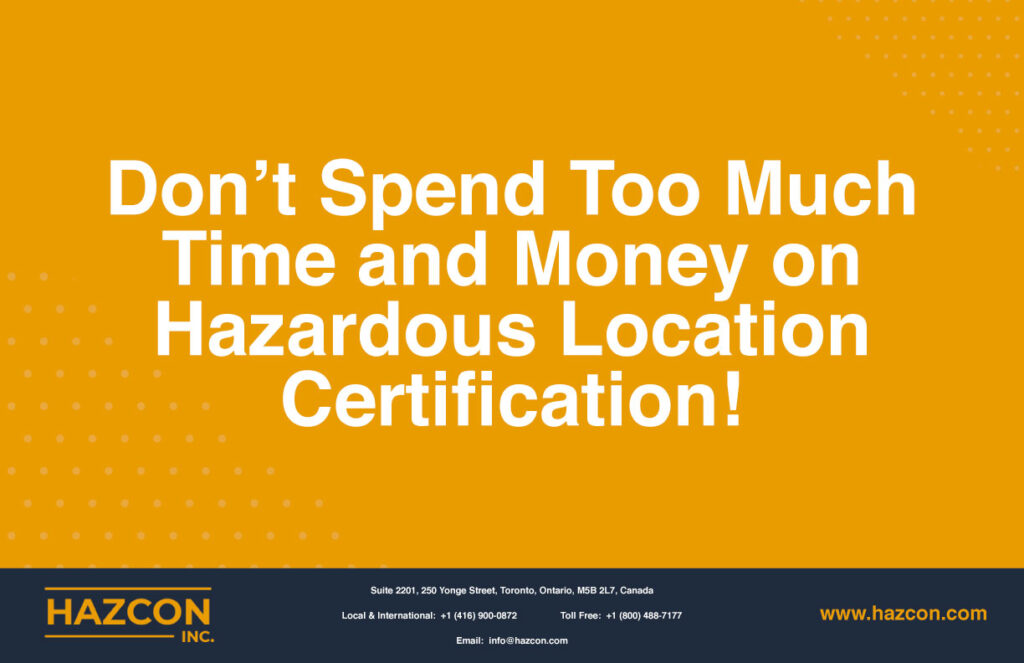 Don't spend too much time and money on hazardous location certification!
Certification by an impartial third-party or certification agency is an attestation that relevant safety and performance standards have been met. Certification of electrical products being designed and manufactured for use in hazardous locations and explosive atmospheres (Ex equipment) is especially stringent because of the risk of explosion related to them. Such catastrophic events can result in loss of life and the destruction of property, not to mention damage done to the reputations of the designer, manufacturer, installer and even the certifying agency
Certification requirements have become more complex since their introduction. Given today's global marketplace, the chances are high that a new product must also be approved by authorities in other jurisdictions. Manufacturers of products intended for use outside their country of origin may have to deal with foreign engineering firms and unfamiliar equipment distributors; gain the approval of unfamiliar certifying agencies; meet additional regulations and even overcome language barriers, to name just a few of the challenges.
The certification process, no matter how complex, cannot be avoided and is a requirement for manufacturers wanting their electrical products to be approved for use. Certification translates into consumer confidence in both the manufacturers and their products. It enables a product's end user to procure the correct equipment for a specific application. Certification, and its enforcement by the Authority Having Jurisdiction (AHJ), gives manufacturers comfort in knowing that that their products continue to comply with the relevant safety standards from design to installation to use in the field. Certification gives the AHJ the right to inspect and enforce the requirements of the applicable codes, regulations and standards. Liability is no longer solely borne by the manufacturer.
So, if certification is an integral part of getting a product to market, why do so many manufacturers spend more time and pay more money than necessary for this process? The answer lies in their lack of preparedness for each stage of the application process. An efficient process can take between two and four months. An ill prepared application can easily extend the process to a whole year with double the cost.
To begin with, an application for certification requires an understanding of where the product will be sold, installed, and used. This will help to identify applicable certification requirements and standards, which vary from one jurisdiction to another. The certification process for electrical products designed for use in hazardous locations in North America, for example, is different than the requirements for International (IECEx) and European certification (ATEX). In some cases, manufacturers might want to get all three marks and certifications, in order to sell their product anywhere in the world. This adds costs to the certification process and might take longer, especially if the manufacturer is not familiar with or ready to meet each of the requirements.
The manufacturer needs to know what directives, regulations, or code of practice apply in each jurisdiction where the product will be purchased, installed, and used, as well as the standards for that specific product. They also need to anticipate the impact of those standards on product design, the relevant technical guidelines, appropriate protection techniques for those installations, what hazardous location markings are required, and what will expected at each phase of the certification application, including testing and sampling.
Time spent ensuring that a product meets standards and technical guidelines is time wasted if the proper standard/guideline was not correctly identified and referenced at the outset. The standards themselves are complex and may require interpretation. The language used in them include references such as "applies only to", or "except as permitted by subrule…" or "unless otherwise specified". Rules are typically numbered (e.g., Rule 10-212(2) or Article 3.6.2.8) and often refer to subrules, notes and appendices that may also apply. Manufacturers do not always 'speak the language' found in these documents.
Navigating the certification process efficiently
The certifying agency controls the process: the manufacturer submits documents and waits for a response. Manufacturers begin the process by initiating a Request for Quotation from the certifying agency. Manufacturers' proposal documents at this stage must contain only the information required and in enough detail that an accurate quote can be obtained quickly, thus reducing the time span of the entire process.
If critical information required is not provided, or is described with insufficient detail, the certifying body will need additional time to contact the manufacturer to obtain the required details, assess them, and then provide a quote.
The initial request should include a general description of the product (main and safety parts), electrical ratings, hazardous location markings, list of applicable standards, type of certification(s) requested, and protection techniques. In some cases, more than one method of protection is needed. Each protection technique needs to be separately designed by the manufacturer and individually evaluated and tested by the certifying agency.
Given a quotation from the certifying agency, the manufacturer can anticipate what will be required next. This information is spelled out in checklists that certifying agencies use to determine compliance. It is in the manufacturer's best interests to assess, use and submit the checklist(s) as a self-assessment. These checklists are used by certification agencies to better understand a product and complete the assessment and evaluation more quickly. Manufacturers who are prepared for this stage will be able to speed up the process.
The scheduled drawings should be separated from manufacturing drawings and must contain information critical to the compliance of the product with the applicable standard(s). This separation will be helpful when internal documentation and non-safety details need to be updated; such updating can then take place without engaging the approval agency. As a general principle, it's important, when preparing for certification, to anticipate what will be involved in maintaining it.
Manufacturers also need to anticipate the certifying body's requirements for testing – by preparing the number of samples that will be required, and in the correct configuration. Manufacturers can begin preparing them, so once samples are requested, they can be provided immediately.
Failure to consider the certifying agency's requirements and to anticipate them may mean having to redesign the product, repeat certain steps, redo documentation, and create new drawings – all of which unnecessarily adds time and costs to the process.
For example, let's take the certification process for a hazardous location LED fixture, Zone 1 application. The certification process should take three months to complete. However, if the manufacturer is not prepared to design the LED arrays, driver and internal PCB components based on requirements in the standards, the process can easily take up to six or eight months.
It is in manufacturers' best interests to move their products quickly through the design, testing, approval, and production stages into the marketplace to keep pace with rapidly changing technology. The certification process takes time: it involves assessing the required technical documentation, testing the product against the relevant standards, and ensuring compliance with the applicable legal framework and all the certification rules and procedures.
It is wiser to be well prepared for success than to receive notice that a certification application has failed. Know in advance what your plans are for your product; know the applicable standards and technical guidelines; know what documents you will be expected to provide to the certifying agency; and anticipate the need to provide samples. If you follow this advice, your process may be shortened. Delays are never pleasant, and especially ones that can be avoided.
http://www.hazardexonthenet.net/article/180140/Don-t-spend-too-much-time-and-money-on-hazardous-location-certification.aspx
Complete the form below to get started.