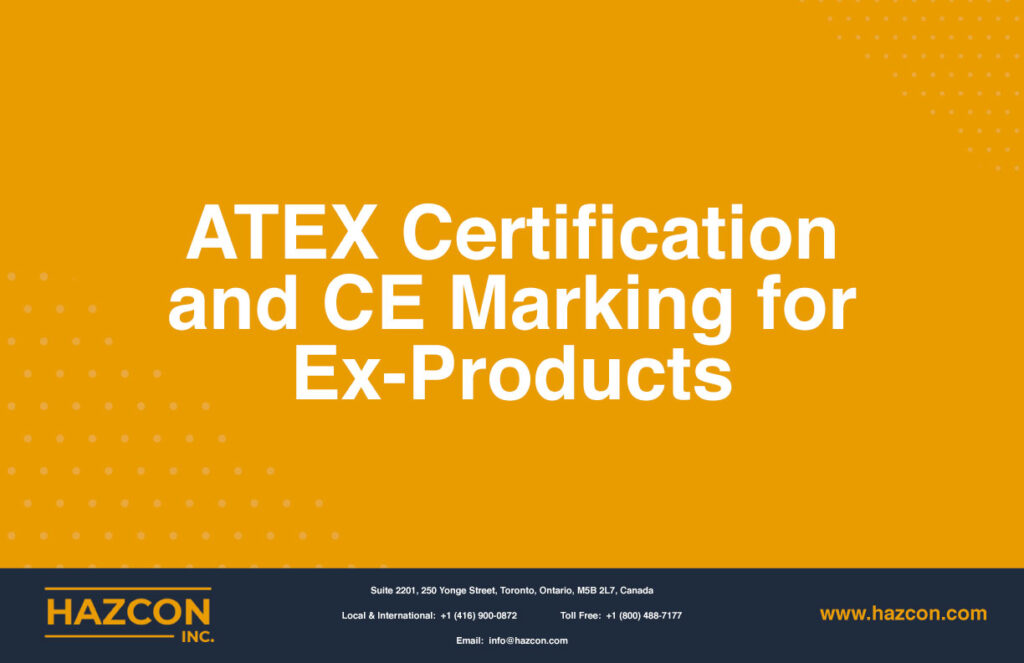 ATEX Certification and CE Marking for Ex-Products
What is the ATEX Directive?
ATEX is an acronym for ATmosphères EXplosibles, a regulatory framework for the manufacture, sale and use of equipment in potentially explosive atmospheres in the EU. ATEX Directive 2014/34/EU addresses the safety of equipment. Before it can be put on the market, equipment must comply with Directive 2014/34/EU. This is a mandatory requirement in Europe (driven by European law).
What are Essential Health and Safety Requirements (EHSRs) of the ATEX Directive?
Annex II of the ATEX Directive 2014/34/EU addresses the Essential Health and Safety Requirements (EHSR) pertaining to the design and construction of equipment intended for use in potentially explosive atmospheres (Ex). Compliance with the requirements of the ATEX Directive includes satisfying the EHSRs.
There are two European series standards, EN 60079 and EN 80079 that are considered harmonised standards. Compliance with these standards, as indicated by Article 12 of the ATEX Directive, demonstrates conformity with the EHSRs. In fact, most Ex European standards began as IEC standards, so they are technically equivalent and likely very similar.
More information on EHSRs and harmonised standards can be found at: https://ec.europa.eu/growth/single-market/european-standards/harmonised-standards_en
What is a CE mark?
All products that are being put on the market in the EU must be CE marked, which means that the product complies with ALL of the applicable directives (e.g., ATEX, Machinery, Low Voltage, EMC, Pressure Equipment). When the manufacturer releases a product for sale, it must include a Declaration of Conformity (DoC) with the product. This Declaration is a legal document that illustrates how the directives are complied with. It is signed by an authorized representative of the company. The process for compliance with all of the directives is similar to that required for the ATEX directive, though only one actual Declaration of Conformity that lists all of the directives is required.
Getting an ATEX Certificate of Conformity
For electrical equipment designed for Categories 1 and 2 (to be used in Zone 0/20 and Zone 1/21), in order to get an ATEX Certificate and put the product on the market, there are two main steps:
Technical Evaluation: The design and technical details of the Ex product are controlled by documents that are assessed during the compliance assessment and then held on file by a Notified Body (ExNB). A sample of the Ex-product is tested to ensure that it complies with all the requirements.
Quality Assessment: The quality of the design and manufacturing process is then also subjected to controls, depending on the equipment group and category. All locations where the certified Ex-product is manufactured are audited to confirm that they are capable of manufacturing products identical in design and performance to the tested sample. The ATEX Quality Assurance Notification (QAN) is therefore involved with the continued monitoring of systems and processes in relation to those Ex-products.
A successful technical evaluation and QAN report result in an EU Type ATEX Certificate of Conformity being issued by the ExNB (Notified Body). It must be noted that an IECEx certificate is different from ATEX. An IECEx certificate cannot be used in Europe. Only an ATEX certificate is allowed for use of equipment in explosive atmospheres in Europe.
Note: For Category 3 electrical equipment (for use in Zone 3/22) and Categories 2 and 3 non-electrical equipment (for use in Zone 1/21 and Zone 2/22), Notified Body involvement is not required for either the design or the quality assessment. The technical files must be held by the manufacturer. However, many manufacturers would prefer to get the assessment and conformity conducted by an ExNB for their Category 3 (Zone 2/22) electrical products. In this case, an EU Type Certificate will be issued to show that the product complies with harmonized standards and the ATEX Directive. The Declaration of Conformity, marking and instruction will be provided by the manufacturer. Also, there will be no QAN required for Category 3 products.
Complete the form below to get started.